Wike Speaks On G5 Governors Reaching Deal With Tinubu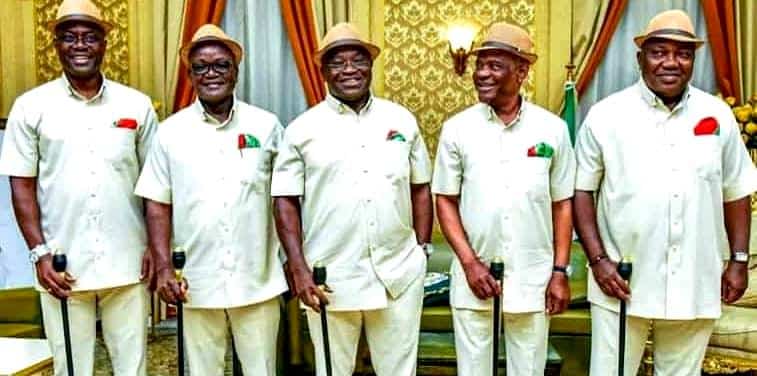 Governor Nyesom Wike of Rivers State has denied media reports that he and his four other colleagues have struck a deal with the All Progressives Congress (APC) flagbearer, Bola Tinubu.
Several reports emerged on Friday that the five aggrieved governors of the Peoples Democratic Party (PDP) had struck a deal with Tinubu to form an alliance ahead of next year's presidential election.
One of the reports said Tinubu and the five governors met on Wednesday in the United Kingdom at the London residence of the APC presidential candidate where a deal to work together was finalised.
It was said that part of the deal is that the APC candidate will not make any financial commitment to the ruling party's candidates whose positions are being sacrificed for the G-5 governors.
Also, it was reported that Tinubu would deflate his party's campaign in the respective states to accommodate the interests of the G-5 as one of the demands of the governors.
Speaking during the flag-off of the construction of Eneka-Igbo Etche Road in Port Harcourt on Friday, Wike stated clearly that he and the G5 have not struck a deal with any presidential candidate.
The Rivers governor described media reports claiming that the G5 governors had struck a deal with Tinubu or any other flagbearer as untrue.
According to Wike, he cannot take any political decision on his own without consulting with the people of the state, urging detractors to leave members of the G5 alone.
Wike maintained that he is not contesting an election next year and thus should not be the subject of speculations.
He said: "They said Wike had an interview with BBC and he said we have a deal with so and so. Meanwhile, no video, no audio. And some of you waste your time listening to such things.
"Don't you know that when I want to do something, I will do it? Don't you know? Do you need to speculate? You don't need to speculate. They said there is trouble but there is no trouble. What we have is an introduction to the trouble that is going to come!
"So, my dear people, I just want to tell you that whatever decision I will take, I will let you know. I cannot take any decision without taking advice from you.
"I urge detractors of G5 members to leave us alone. I just want to enjoy myself and my family."
Full Story: https://www.naijanews.com/2022/12/30/breaking-wike-speaks-on-g5-governors-reaching-deal-with-tinubu/
TAGS: #Wike #Speaks #Governors #Reaching #Deal #Tinubu